Univ-Prof. Dr. THOMAS BINDER
Thomas is founder and CEO of 123sonography. For more than a decade he has produced high-quality medical content for the company and has enabled hundreds of thousands of sonographers to improve their knowledge in ultrasound and echocardiography both "online" and as lecturer/course director. He held the position of director of echocardiography laboratory at the Medical University of Vienna for over 20 years and is a well-known cardiologist, scientist and teacher. He now heads the department of Digital Learning at the Teaching Center of the Medical University of Vienna to develop and implement new digital teaching strategies. His unique skill-set of profound knowledge, creativity and charismatic way of communication have found their way into 123sonography's top-quality products, contents and company culture.
Mag. KATHRIN BIERNAT, MBA, akad. Exportkauffrau
Kathrin joined 123sonography in March 2021 as CEO. She has a profound background in Marketing, Sales and Business development with more than 13 years of international experience. Together with Thomas, she develops New Business Fields, heads the strategic development of the company, implements relevant processes and structures and is responsible for Business Administration topics. Other than that, you will find her rolling through Dojos and passionately talking about Krav Maga.
Anna is one of the newest members in 123sonography's medical team. Her expertise offers our customers the necessary advice on all medical-related inquiries regarding our courses. She also creates content for our sonoAssistant and supervises the filming process of new courses. In her rare free time you might find her speeding through Vienna in ambulance cars serving as a paramedic.
Iznaur joined 123sonography recently as Senior Educational Project Manager. He is responsible for operational management of the film projects and digital course portfolio as well as new course launches. He has a solid experience in online & offline educational projects coordination. In his spare time he is contributing as a guest researcher in the field of social innovation and impact investing at the university.
For several years now, Edwina has been focusing on our customers needs and requests and is passionate about increasing the quality we provide. As Head of the Customer Service Team, she maximizes customer satisfaction by strategically managing emails, implementing process improvements and serving as the voice of the customer concerning new product developments. Her university degree in political communication additionally reinforces her good communication skills and problem-solving abilities. Most of the time, you will find her in Sweden, further developing her academic career while listening to music non-stop.
Kalouda started her position as Head of Communications in June 2021 and is responsible for managing and directing 123sonography's internal and external communications. Her main focus points are: creating communication strategies, developing the brand voice of 123sonography and maintaining brand integrity across all platforms. She is also a big fan of croissants and strongly believes that David Bowie is the coolest person to have ever existed.
MAGDALENA SCHWEINBERGER, M.A.
Magdalena is Head of B2B Business Development and leads the Multi-Project Management office. She develops new B2B Business Development Campaigns, defines Go-to-Market strategies and oversees the operational daily B2B business. As a professional in European Studies she oversees critical funding projects and develops strategic partnerships with various stakeholder groups. In her free-time you are very likely to find her working out or harvesting her own vegetables.
NIKOLAUS FRIMMEL, MD, MSc.
Niko is a long-time senior medical advisor at 123sonography. The physician supervises and reviews key critical filming projects and serves as a speaker for POCUS content. Due to his additional profound IT background, he also operates as a product owner for new and innovative digital medical products like the sonoAssistant. In his spare time you will find him travelling around the globe or on his mountain bike.
Wenzel is customer-satisfaction and customer-service manager since 2017. He continuously improves the B2B and B2C customer experience, always focusing on our clients' needs. Moreover, his degree in mechanical engineering enables him to operate in a solution oriented and data driven way. In his rare free time, if not studying for his master's degree, you will most likely find him on his mountain bike or in pubs, hanging out with friends.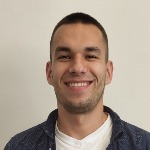 Marek joined the company in May 2022 as part of our Customer Service team. With his years of experience with face-to-face customer communication, he ensures that any possible customer issues are swiftly solved. He is also responsible for general office management operations. Marek rides his bike everywhere and enjoys hiking and listening to music.
We Transform Medical Education
---