Emergency & Critical Care Ultrasound
Essentials
Save valuable time in emergencies with POCUS ultrasound.
Practical concepts, striking illustrations, high-quality ultrasound images, clinical examples, and live scanning demonstrations.
MARTIN GENGER - MARTIN ALTERSBERGER - THOMAS BINDER 
Learn ultrasound to survive your night shifts!
After completing this course, you will be able to perform point-of-care ultrasound in the ED, ICU, and master critical situations, as well as diagnose the most common and life-threatening conditions you may encounter in emergency settings. The course is full of tips and tricks of our experienced faculty and provides 5+ hours of high-quality video content, demos, cases and MCQ questions. The following topics are covered:
Shock/hypotension
Resuscitation
Acute coronary syndromes
Aortic dissection/rupture
Heart failure
Pericardial effusion/tamponade
Pneumothorax
Pulmonary embolism
Pleural effusion
DVT
Trauma
Abdominal pain
Bleeding and much more
The Emergency & Critical Care Ultrasound Essentials is for
Intensivists
Emergency and critical care physicians
Sonographers
Internists
Medical students
Cardiologists
Gastroenterologists
Primary care physicians
Anesthesiologists

Become competent in Emergency & Critical Care Ultrasound
Emergency POCUS is one of the fastest-growing applications of ultrasound. With POCUS ultrasound, you save valuable time in emergencies. It allows you to rule in (or rule out) critical diagnoses and facilitates treating and managing critically ill patients. This online video course provides the "essentials" of emergency ultrasound. We will cover theoretical and practical aspects of common and often critical pathologies, as well as several potentially life-threatening conditions.
In addition, we show you how to image patients in emergencies. An entire chapter is devoted to the eFAST protocol used for trauma and acute abdominal pain, and you will learn to use a "FOCUSed" approach to image the heart. Moreover, each chapter features video demonstrations where our faculty provides hands-on explanations and tips to boost your imaging skills. Finally, we provide hundreds of ultrasound examples and cases to help you put your findings into a clinical context.
This course is for all healthcare professionals who work in an emergency department (ED), Intensive Care Unit (ICU) and for all those who see critically ill patients.
Chapters
1
Introduction
Find out why POCUS ultrasound is so important in critical care scenarios, which approach you should use and which instrumentation you should use. In this chapter we will also show you how to apply POCUS ultrasound in cardiac arrest and cardiopulmonary resuscitation (CPR).
2
Heart
We will introduce you to the basic echocardiographic views used in emergency sonography and teach you the essentials around LVF and RVF, acute coronary syndrome, pericardial effusion, cardiac tamponade, and valvular heart disease.
3
Lung
Learn how to approach lung ultrasound for detecting and differentiating consolidations, pleural effusion, and pulmonary edema and how to diagnose pneumothorax with ultrasound.
4
Aorta
Master the topic of aortic pathologies, learn to quickly recognize aneurysms and dissections and make sure you don't miss the diagnosis of aortic rupture. Many ultrasound image examples and live demos will guide you through this topic.
5
Pulmonary Embolism - DVT
Did you know that there are direct and indirect signs of pulmonary embolisms that you can find in lung ultrasound? We teach you how to link them to your clinical findings. We also demonstrate how to diagnose or rule out a deep vein thrombosis of the lower extremity.
6
Clinical eFAST in abdominal pain
Learn how to use the eFAST protocol in trauma settings and in a clinically oriented ultrasound of the heart, lungs, and abdomen in patients with acute abdominal pain, chest pain, or dyspnea.
7
Hypotension, shock and syncope
Find out why echo is essential in hypotension, syncope, and different kinds of shock! We teach you a simple approach to this broad topic and put everything into context with many case examples.
OUR SPEAKERS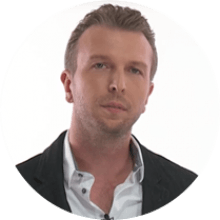 Martin Genger, MD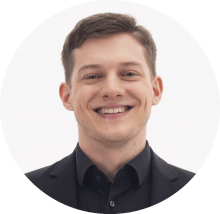 Martin Altersberger, MD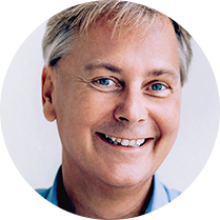 Prof. Thomas Binder, MD, FESC
Get a sneak peek into the course!