Christmas Ultrasound Miracles – Part 1
As health care professionals we witness not only tragedies but also miracles. True, the accomplishments of modern medicine are often at the core of such success stories. But for patients, they often are true miracles and their biggest Christmas present. Here is a collection of ultrasound cases that document how we can change the life and wellbeing of our patients.
Reverting dilated Cardiomyopathy
A 35-year-old carpenter with dilated cardiomyopathy unable to walk a flight of stairs. He had to quit his job and was living from social welfare. Cardiac Resynchronisation  Therapy (CRT) changed not only his EF but also his life. As a "superresponder" his  NT Pro-BNP levels dropped from 11.450ng/l to 120ng/l. He is now back in his job!
Top left and right: 4 and 2 Chamber view before CRT with a dilated left ventricle and an EF of 25%; Bottom left and right. Echo after CRT. LV size and EF are now normal!
Getting rid of mitral regurgitation with a pill
A 70 year-old women in despair with dyspnea and headache seen the emergency room. What did we do to reduce mitral regurgitation from grade 3 to 1 and alleviate here dyspnea?
Simple; we lowered here blood pressure (which was 260/132mmHg) and gave here a little bit of diuretics. This is a great example of dynamic MR and how important afterload is for the left ventricle.
1: Severe MR and dilated LV as a result of hypertension; 2: Blood pressure lowering results in a significant reduction of MR and improvement of LVF
Normalizing pulmonary hypertension
This 35-year-old woman suffered from idiopathic pulmonary hypertension for 10 years. Here clinical conditioned deteriorated despite PH combination therapy. She was brought into the hospital in a stretcher and left 4 weeks later walking with a smile on her face. Lung transplantation saved her life.
1: massively dilated RV and poor RVF. Her systolic pulmonary pressure was 120mmHg. 2: normalization of right ventricular size and function after lung transplantation.
 I believe these images truly tell a story. And they should remind us how blessed we are to work in a profession that allows us to be part of such "miracles"
Merry Christmas
Thomas Binder and the 123sonography team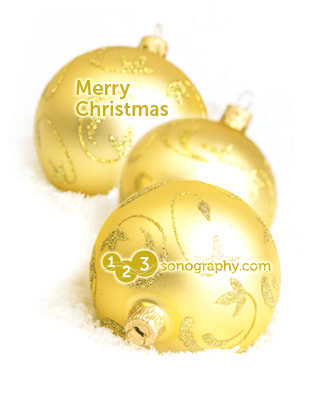 PS: If you like to see more ultrasound miracles watch your inbox for part 2
PSS: We will soon have s special offer