Who We Are – 123sonography Team
We are a team of cardiologists and internists from Vienna, Austria. Most of us were trained and work at the Medical University of Vienna but we also have strong ties to other national and nternational institutions and hospitals.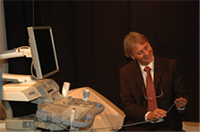 Thomas Binder, MD
"Give me an echo machine! I am lost without it"
Thomas, a.k.a. "Tommy" is professor at the Medical University of Vienna and heads the echo lab    there. Tommy has over 20 years of echo experience. Aside from his scientific work dealing with    topics such as 3D echocardiography, cardiac resynchronization therapy, speckle tracking and    clinical research, he was always strongly dedicated to teaching and has done so for many years.    Over the years he has seen what works and teaches it to his students.
"We have to teach what the students need, not what WE know!"
His approach to teaching is very practical and "hands-on". He is always looking for new "tricks"    to make learning more intuitive, visually appealing, fun and effective.
The combination of teaching and new media has always fascinated him ever since he published the    first a CD-ROM on echocardiography (Interactive Atlas of Echocardiography) more than 15 years    ago.
"But now it is time to move on, the internet is ready to combine my three favorite passions:    echocardiography, teaching and filming."
Georg Goliasch, MD
"It's done"
Georg has been with us from the start when he was still a medical student. Within no time he received his MD and completed his PhD in Vascular Biology. Georg has already published numerous articles in renowned medical journals and completed a research fellowship in cardiovascular imaging at the Mount Sinai Hospital (New York, US). Most of the teaching material you will see in our courses has been optimized, proof-read and tweaked by him. He's the sine qua non of 123sonography.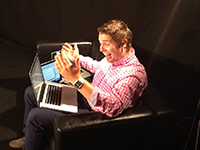 Oliver Hübler
"No problem, it can be done"
The tech wizard. Oliver is the master of the visible and the invisible. The creator of our online    infrastructure, the architect behind your user experience. You tell him what you want and he has    the solution. He has a real interest for medicine, which makes him ideal for the job. Oliver has    an education in computer technology and received his Bachelor of Science in web design and    development. Ever since he joined our team, things are running much smoother.
Saskia Erbschwendner
"Just do it"
Saskia is the heart and soul of 123sonography. After studying communication sciences and working  in the Public Relations sector she joined the 123sonography team to support a great idea with  passion. Saskia  is our chief operating officer; she pulls the strings in the background and  makes you feel at home. Even though Saskia is from Salzburg she lives in a "different" time  zone. She gets really active at night. If you are from the other side of the "pond" don´t be  surprised to receive an email without delay. Saskia takes care of all the administrative things.  Without her, WE would be totally in the dark.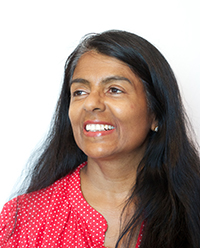 Mag. Sujata Wagner
Sujata joined our team when we came to realize that learning occurs best when videos are complemented by text. Sujata edits our newsletter, polishes our ebook entries, and makes them easy to understand. Sujata was born in India, where she studied history and German. She has worked as a medical translator and in medical journalism for several years.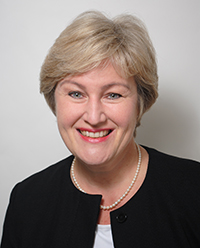 Jutta Bergler-Klein MD
Jutta is our expert on aortic stenosis - one of THE most important topics in echocardiography. Early on in her career, she specialized in valve disease and echocardiography. She has published in various prestigious journals such as Circulation, the Journal of the American College of Cardiology, the European Heart Journal and even the New England Journal of Medicine. In her free time, Jutta likes boating on a nearby lake and spending time with her family, Jutta will teach you everything about the tips and tricks of aortic stenosis evaluation and management. She's looking forward to "seeing you in class".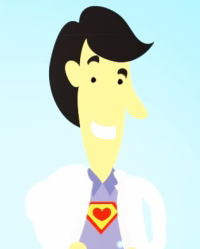 Stan Osis, MD – 123sonography's secret star
Stan is a cardiology fellow who is just getting started with echo. He is in love with echo.  Echocardiography is his secret weapon that distinguishes him from the rest of his colleagues.  Stan once felt really incompetent. There were just too many questions he could not answer.  But then we taught him echo and his career took off like a rocket. He uses 123sonography's  integrative approach to echo. Watch out for Stan, he is already on his way to becoming a  true expert. Use him as a role model and follow his path….
Acknowledgements
Marion Fassbach – Sonography application specialist
Inge Vorraber – Graphics and Design
Irene Ksica – Graphics and Illustrations
Amit Vadehra – Medical content production