Aortic Disease
Chapter 17
Presenter: Prof. Thomas Binder, MD, FESC
1:02:00
1 credit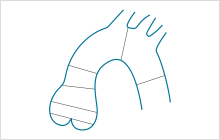 What you will learn
The aorta can also be visualized with echo! In this chapter we will show you how. Diseases such as aortic aneurysms, dissection, aortic syndromes, and congenital abnormalities of the aorta will be covered.
Normal structure and size of the aorta
How to visualize the aorta
Definition and forms of aortic aneurysm
Aortic syndroms (+ aortic dissection)
Aortic plaque
Examples of what TTE / TEE can offer
Video lectures
Cases
Fact sheets
Click on the link below to download or print your fact sheet.