Pancreas and great vessels
Chapter 8
Presenters: Ulrike Handler - MD Austria; Christian Aiginger - MD Austria
56:36
2 credits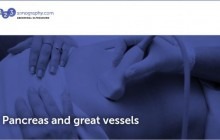 What you will learn
Pancreas – is also called the hidden organ? True, it is difficult to find. But not for you. At least not once you completed this chapter! We will show you an important landmark that you can use as your starting point and we will teach you some secret approaches so that you will never fail to find the pancreas again.
This chapter deals with the most common pathologies of the pancreas such as pancreatitis, tumors and cysts and their ultrasound features. You don't want to miss the diagnosis.
Abdominal aortic aneurysm - early diagnosis can save lives! Be prepared for critcal care scenarios and emergency case and learn how to scan and evaluate the abdominal aorta. This chapter also deals with other great abdominal vessels such as the portal vein and the inferior vena cava IVC.
Please note the following error in the "Pancreas: Anatomy and How to image"-video: at 10:38 ignore the pink circle, only the mouse cursor is correctly pointing to the pancreas!
Video lectures