Liver sonography part 2
Chapter 4
Presenters: Ulrike Handler - MD Austria; Christian Aiginger - MD Austria
54:00
1 credit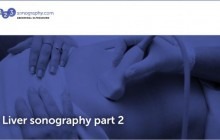 What you will learn
Now it's time for dealing with the most important pathologies of the liver: we'll teach you the ultrasound features of several diffuse diseases of the liver as well as the characteristics of the most common focal lessons. Test your knowledge in the following case reports!
Learn how to detect and distinguish liver congestion, Steatosis and liver cirrhosis with your magic ultrasound wand - we'll take you there!
What has a snowball have in common with liver lesions? You'll find out in this chapter: learn how to find and diagnose hemangioma, hepatocellular carcinoma, cysts and metastases - after completing this chapter you will definitely know the different ultrasound features of the most common liver lessons.
Video lectures