Liver sonography part 1
Chapter 3
Presenters: Ulrike Handler - MD Austria; Christian Aiginger - MD Austria
48:42
1 credit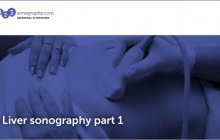 What you will learn
Get ready for scanning the liver: we start with a review of the liver and important surrounding structures, followed by a systematic approach to all the different scan planes of  the second largest organ in our body. After this chapter you will be able to perform a complete ultrasound examination of the liver!
The liver is the second largest organ in our body. Learn how to recognize the two lobes and the four different vasculas systems. Know which important structures surround the liver - we will prepare you to systematically scan the liver with the help of an anatomical model and provide you with standard values you will need to put in your report.
A systematic approach  that will teach you the first 4 imaging planes.
Here we will explain the remaining scan planes for examining the liver which includes the "emergency view" of the liver. Learn how to identify the liver segments and see the course of complete liver scan.
Video lectures