Adenomyomatosis
First published on Sonoworld
Case Presentation
40 year old female with RUQ abdominal pain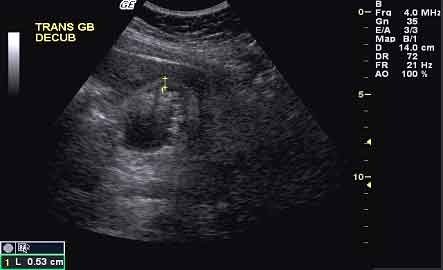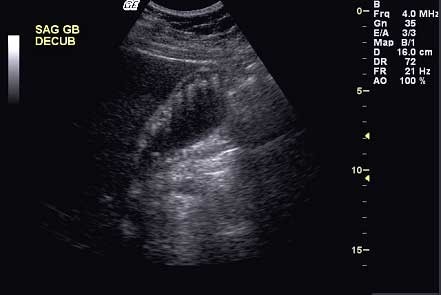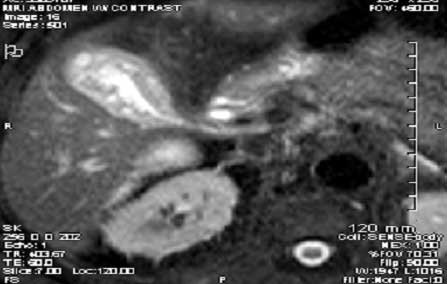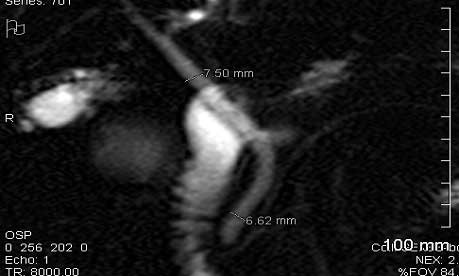 Differential Diagnosis
Adenomyomatosis
Cholesterolosis
Final Diagnosis
Adenomyomatosis
Discussion
Findings:
US:  Diffuse gallbladder wall thickening including numerous intramural echogenic foci.  "Comet-tail" reverberation artifact extends intraluminally from the near wall of the gallbladder.
MRI and MRCP:  Gallbladder wall thickening with numerous T2 hyperintense intramural foci which are isointense to bile on T2 weighted sequences.
Discussion:
Hyperplastic cholecystoses include cholesterolosis and adenomyomatosis.   Adenomyomatosis is differentiated from cholesterolosis by the presence of Rokitansky-Aschoff sinuses which represent invagination of hyperplastic gallbladder mucosa into the thickened muscular layer.  Cholesterol crystals deposited into the bile-containing sinuses demonstrate sonographic bright reflection and short  reverberation artifacts (Comet-tail) best seen at the near wall of the gallbladder. 
Adenomyomatosis is a benign disorder of unknown etiology and is more prevalent in women.  It is seen in up to 20% of surgical gallbladder specimens performed due to biliary symptoms.1  It has been called adenomyomatosis,  adenomyoma, diverticular disease, intramural diverticulosis, cholecystitis cystica, and cholecystitis glandularis proliferans.2  Involvement will be either diffuse, segmental (often annular) or focal (most common at the fundus).3  It is commonly associated with gallstones.
While adenomyomatosis is a benign condition and cholecystectomy is not recommended in the asymptomatic patient, careful follow-up or cholecystectomy may be required if coexistent carcinoma cannot be excluded.
Historically, evaluation for adenomyomatosis was performed by oral cholecystography which was used to demonstrate the Rokitansky-Aschoff sinuses.  Today, these are well seen utilizing MRI.  The "pearl necklace sign" represents multiple round hyperintense cavities on T2-weighted MR imaging and MR cholangiopancreatography indicating the presence of the Rokitansky-Aschoff sinuses within the thickened gallbladder wall.
References:
Adusumilli S, Siegelman ES. MRI of the bile ducts, gallbladder, and pancreas. In: Siegelman ES., ed. Body MRI. Philadelphia: Elsevier Inc.; 2005: 63-127.
Yoon J-H, Cha S-S, Han S-S, Lee S-J, Kang M-S.Gallbladder adenomyomatosis: imaging findings. Abdom Imaging. 2006; 31: 555–563.
Middleton W, Kurtz A, Hertzberg BS. Gallbladder. In: Ultrasound-The Requisites. 2nd ed. St. Louis: Mosby Inc.; 2004: 28-48.
Additional references:

Boscak AR, Al-Hawary M, Ramsburgh SR.Best cases from the AFIP: adenomyomatosis of the gallbladder. Radiographics. 2006; 26(3): 941-946.

Hiroki H, Tomoaki I, Hironobu S. et al.The pearl necklace sign: an imaging sign of
adenomyomatosis of the gallbladder at MR cholangiopancreatography. Radiology.2003; 227:
80-88.